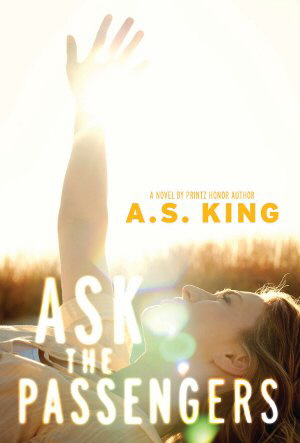 Astrid has given up on keeping her love. She's sending it out into the world. She's sending it to the bully who picks on her at school. She's sending it to the airplanes and the passengers that pass over head. She's sending it to her pot-head dad who should be more involved. She's sending it to her close-minded sister Ellis who has taken this whole "small town girl" thing way too far.
She's even sending it to her mother, who obviously doesn't like her, and would much prefer a second version of her Ellis instead.
Why is she giving all her love away? She has two best friends, the perfect couple...except she knows their secret. They are both covering for each other. Kaitlyn's got a girlfriend, and Paul's got a boyfriend.
But neither knows Astrid's secret: she's got Dee. They collide in the walk-in at work, stealing kisses whenever they can. It's all very confusing, and more than a little painful. Until she can sort it all out, she's keeping it to herself. Is she gay? What exactly does that even mean...and how can she be sure? Is it something you are just supposed to know, like, deep in your bones? Does the fact that she enjoys kissing Dee brand her forever?
It's all hypothetical until they all get busted at a gay club in the city. Now the school is abuzz with the news that everyone's favorite couple...isn't really a couple. The hateful comments seem to be getting worse and worse. Kaitlin and Paul are both taking a break until things die down a little. Ellis gets caught up in the gossip, and pretty soon Astrid is taking abuse from her as well. Everyone is asking the same question: are you gay? The thing is...Astrid isn't sure. Does it even matter if they have all decided for her?
King is quickly becoming one of my favorite authors. Her prose gives me goosebumps, and I share those touching, awkward moments with her characters. The extra touches she provides take a good story to a great one. I can't say enough about this book. Go read it! Right now! Why are you still reading this?!
*Library Link*
"All those people who are chained here thinking that their reputations matter and this little shit matters are so freaking shortsighted. Dude, what matters is that you're happy. What matters is your future. What matters is that we get out of here in one piece. What matters is finding the truth of our own lives, not caring about what other people think is the truth of us," (King, 2012).
If you liked this, check out:
Please Ignore Vera Dietz by A.S. King
Every Day by David Levithan
The Miseducation of Cameron Post by emily m. danforth
King, A. S. (2012). Ask the Passengers: A novel. New York: Little, Brown.