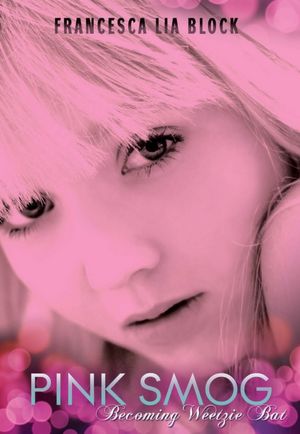 Weezie (don't call her Louise) is on a rough streak. Her dad and mom have fought for years, but this time it seems like he's really gone. She saw the fight they had, she feels it too. Brandy-Lynn (her mom) has sunk herself into the bottle, and whatever's on the TV.
School isn't any better. Weetzie has always been different. She stands out with her eclectic style, and her unwillingness to go along with the crowd. She becomes the target of bullies, along with her new friends: Bobby and Lily. She prefers to think about the fact that she finally has friends.
A new family has moved into their apartment complex. The boy is the most beautiful person she's ever seen. His name is Winter, and his eyes are blue "like a stone in water -- rings and rings," (Block pg. 17, 2012). He's her guardian angel. It was Winter that saved her mom that horrible night when she fell in the pool. It was he that stood up to those snobby girls at school and offered to give her a ride home. Winter says he knows Charlie (her dad), but how can that be?
Someone is leaving notes for Weetzie, with clues as to where to go next. It's some crazy kind of scavenger hunt, and she doesn't know who's leading her around. She misses Charlie, and she's so mad that he hasn't called. To cheer herself up, she dyes her hair a signature Marylin blonde, and takes herself out on a date.
Despite her best efforts, there are still days when everything falls apart. She finds a picture of her father with Winter's mother...but this photograph is from his movie making days. Is there something more sinister about Winter and his family after all?
As a die-hard Weetzie fan, I waited on pins and needles for this one, and Block doesn't disappoint. She mixes her characteristic whimsy with a realistic storyline. It stays grounded, but has moments of transcendence that make you wonder if something supernatural really is going on. Highly recommended for high school, or mature middle school.
"I had been here before, with Charlie and my mom, but I hadn't thought about it in years. Now everything in the building seemed to come alive. I could hear the whispers of the stars and smell their perfume. Satin and lamé swished and shimmered. Lights and gold dust twinkled in my brain.
I didn't know why I had been sent here but I felt better for having come. I felt hopeful like I'd just woken up from a beautiful dream I didn't quite understand," (Block pg. 67, 2012).
*Library Link*
If you liked this, check out:
Dangerous Angels by Francesca Lia Block
When You Reach Me by Rebecca Stead
The Miseducation of Cameron Post by Emily M. Danforth
Block, Francesca Lia (2012). Pink Smog: Becoming Weetzie Bat. New York: HarperTeen.